FREQUENTLY ASKED QUESTIONS
ORTHOTICS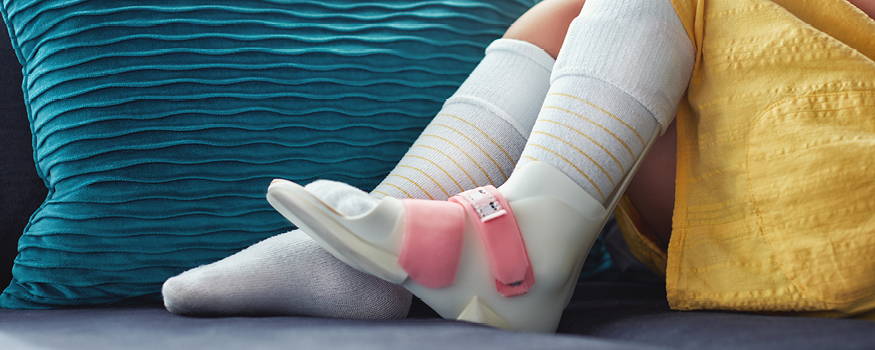 MY CHILD IS ALLERGIC TO LATEX. ARE YOUR PRODUCTS LATEX-FREE?
Our products are made with Latex-Free materials.
WHAT DO I DO IF THE PRODUCT DOESN'T FIT?
Simply complete the return form on the back of your invoice. Return any unworn product within 30 days of the receipt in the original package to receive a full refund.
MAIL TO:
Knit-Rite, Inc.®
120 Osage Ave
Kansas City, KS 66105
See our for additional information.
WHAT IS YOUR RETURN POLICY?
We want to make sure that you are 100% satisfied.
Products that have been unworn and are in the original packaging may be returned for a full refund within 30 days of receipt.
Products that have been worn may be exchanged for products of equal or lesser value within 30 days of receipt. Worn products must be laundered before returned. For exchange orders, Knit-Rite Direct ships the order back out to the customer free of charge.
Please note, that manufacturer warranties do not cover normal wear & tear, mishandling, runs, and improper care. Over time, snags, runs or holes can develop in the product, as with other such products. These occurrences will not be considered as defects. In cases of worn or washed product, returns must be pre-approved by a Knit-Rite Direct Customer Service Representative before the order is returned.
Return Shipping
Customers are responsible for all return shipment charges. In order to avoid lost packages Knit-Rite Direct recommends customers use a return shipping carrier with tracking, such as UPS or USPS with tracking.
Credits
Upon receiving returned product, a credit will be issued to the account within 14 business days for the full product value, less shipping and handling charges. Credits will be issued via the original method of payment (check or credit card). Knit-Rite Direct pays the re-shipment costs associated with exchanged orders.
CAN I TRIM OR CUT THE AFO/KAFO SOCKS. WILL THEY UNRAVEL?
Eventually the product could have ragged edges based upon multiple washings and time.
See care instructions label for specific garment care. We recommend do not add bleach.
WHAT WILL INSURANCE COVER? WILL YOU BILL MY INSURANCE COMPANY?
Knit-Rite Direct does not bill insurance companies directly. If you would like insurance billing options, please place your order directly with your practitioner.
WHAT DOES THE SHOE SIZE MEAN?
Shoe size will help, but the socks also need to fit the ankle and calf. We also need to know the overall length needed to protect from the brace. Shoe size, ankle and calf circumference, and brace height would insure a good fit.
Size charts are found on each product detail page.
SHOULD I ORDER DIRECTLY THROUGH MY ORTHOTIST?
If you are unsure of sizing, bracing needs, insurance reimbursement needs, your practitioner would be the best solution for you. However , if you know the size and style options, you can order within Knit-Rite Direct website for your product needs.
WHAT ARE YOUR SHIPPING CHARGES AND DELIVERY TIMES?
USPS Parcel PostContiguous US Orders
Flat Shipping — ($5.99) Allow 7–10 business days for delivery
Expedited Shipping
Standard UPS Ground — ($9.95) Allow 3–5 business days
UPS 2nd Day Delivery — ($18.95) Allow 2 business days
UPS Next Day Delivery — ($24.95) Allow 1 business day
Please Note: Expedited orders received after 11 a.m. EST can not be guaranteed to ship until the following business day. Our normal business hours are Monday–Friday. We do not offer a Saturday or Sunday delivery option for Second Day or Next Day Delivery. Expedited methods require a physical address. No P.O. boxes.
Alaska and Hawaii Orders
USPS Parcel Post — $12.00
UPS Ground — $30.00
UPS 2nd Day — $35.00
UPS Next Day — $55.00
Knit-Rite Direct can not guarantee delivery times for orders that ship USPS.
Canada and Puerto Rico Orders
USPS Parcel Post — $18.00
Knit-Rite Direct can not guarantee delivery times for orders that ship USPS.
International Orders
For orders outside of the US or Canada, please email or call customer service at 1-866-509-7625.
*This is only general information and is not meant for the diagnosis or treatment of any medical conditions. Always consult your physician or other health care provider about all health concerns, conditions, and recommended treatments.